That's the goal: to imitate Him.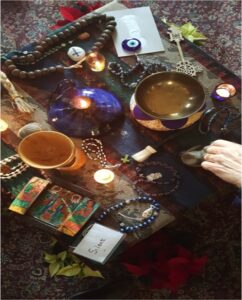 Richmond Hill's spirituality centers around our Rule of Life based on The Rule of St. Benedict. St. Benedict called it his "little rule" in that it was simple and realistic. Our Rule fosters the necessary structure for spiritual development in a space that is both contemplative and active. The prayers and programming spring from that core commitment to spiritual maturation.
Everything Richmond Hill does has the potential to further an individual's spiritual development, but here are some of the unique ways Richmond Hill can walk with you on your journey.
The RUAH School of Spiritual Guidance is a two-year course for persons called to the ministry of Spiritual Guidance. Each school year runs for ten months, September through June. A retreat format is used for the classes.
Richmond Hill offers a place for individual retreats for persons desiring rest and time to seek God. Overnight retreats may be taken in 24-hr increments between Tuesdays at 4 p.m. through Saturdays at 4 p.m.  Spiritual guidance is available for any individual retreat. 
Each month several day retreats are offered, some around particular themes like art & spirituality.  Lunch and chapel are included with all day retreats.  Structure and guidance is provided for those who want it as well as the option for one-on-one spiritual direction, or you can simply spend the day in silence — your choice.