Located on the crest of Church Hill, the city's highest point, Richmond Hill offers an island of peace and quiet in the heart of downtown Richmond. It occupies two of the original "squares" laid out for the city of Richmond by William Byrd II and William Mayo in 1737.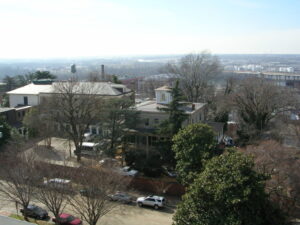 Byrd named the city "Richmond" because the view of the James River from this hill reminded him of the view of the Thames from Richmond Hill, near London, where he had been sent by his parents for most of his youth.
Two blocks away from Richmond Hill is St. John's Church, where Patrick Henry delivered his famous challenge, "Give me liberty, or give me death." It is this church which gave Church Hill its name. The property which houses our retreat facilities once hosted such notables as George Washington, Thomas Jefferson and George Wyth.
The Sisters of the Visitation of Monte Maria called it home for 120 years, beginning in 1866. Today Richmond Hill still serves as a place of prayer, and our ecumenical Christian residential community welcomes visitors for individual and groups retreats. The library, chapel, and gardens are open to visitors every Tuesday through Saturday, and classes and retreats are available 12 months out of the year .(We are closed to retreats on Holy Days.)