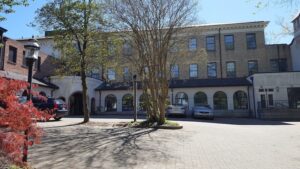 Richmond Hill is an ecumenical residential community who prays daily for the Richmond Metropolitan area. When you come to Richmond Hill on retreat, we welcome you to our home.  While you are here we consider you part of our community.
Here are a few things we think might be helpful for you to know before you come to Richmond Hill on retreat.
Schedule
The deliberate spacing of the day with meals and times of quiet is one of the most important things which Richmond Hill has to offer as a place of retreat. This gentle rhythm slows the rushing pace of the ordinary day and helps us step back to take the longer view and the deeper look that is so often essential to the work of the retreat. We ask all groups and individuals at Richmond Hill to join with us in this rhythm. The bell will ring to announce these times to all who are present.
Meals & Snacks
All who are in the retreat center: groups, individual retreatants, residents, staff, and volunteers share in the meals. This fellowship with others who are also seeking God or exploring their own roles in this metropolitan area adds an extra dimension to the retreat experience.
Coffee, tea, and fresh fruit are available throughout the day. Your group may schedule coffee breaks as you wish.
Soft drinks are available for purchase for 75 cents.
Please do not bring your own refreshments. Food is not permitted outside the refectory area.
Please let us know of any special dietary needs so that we may do our best to accommodate them.
Alcohol is permitted only for sacramental purposes.
Hosts
Staff and residents serve the retreats. A member of the residential community or staff coordinates the efforts of the team and acts as host for your retreat. Your host will be available throughout the day and will be accessible during the night for emergencies.
What to Bring
Accommodations at Richmond Hill are very simple. Please pack lightly. Dress is informal, even for our worship services. Sneakers, jeans and sweaters will fit in fine.  Smoking is not permitted within the buildings.
Most retreatants bring their Bible and a journal. Retreatants are welcome to use the books in our library during their stay here.
Wifi is only available in the lobby near the front desk and in the Solarium.  Even so, you may wish to use your time here to unplug and just leave your internet devices at home.
There is a small bookstore in the lobby.  Books along with notecards, artwork, CDs, Richmond Hill merchandise, and other items are available for sale.  Proceeds go to support the ministries of Richmond Hill.
Additionally, for those staying overnight…
All linens are provided. You will need to bring your own toiletries.  You may wish to bring an alarm clock.
We recommend bringing a bathrobe since the bathrooms are down or across the hall from the retreatant rooms.  Bathrooms are shared among the retreatants but each is private with a sink, toilet, and shower.  A few bathrooms have a shower/tub combination.
Quiet Time
The quiet time at 11:00 p.m. is for the sake of those who wish to sleep. Retreatants who wish to continue in subdued fellowship are most welcome to do so in the retreatant lounge. The parking lot will accommodate retreatants' vehicles and is locked between the hours of 10:00 p.m. and 9:00 a.m.