The apostles gathered around Jesus, and told him all that they had done and taught. He said to them, 'Come away to a deserted place all by yourselves and rest a while.' For many were coming and going, and they had no leisure even to eat.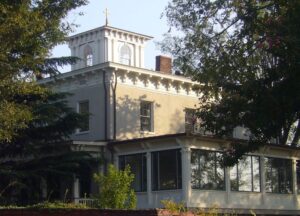 Richmond Hill is an ecumenical residential community who prays daily for the Richmond Metropolitan area. When you choose to have Richmond Hill host your overnight or day retreat, we welcome you to our home and while you are here we consider you part of our community.
Richmond Hill offers space for up to 40 overnight guests and meeting space for groups of various sizes to hold their retreat in our facilities.  The minimum requested donation for an overnight retreat is $80 per person while the minimum requested donation for a day retreat is $20 per person. We will provide a meeting room and meals, as well as coffee, tea and fresh fruit throughout the day, and full use of Richmond Hill during your visit.
The deliberate spacing of the day with meals and times of quiet is one of the most important things which Richmond Hill has to offer as a place of retreat. This gentle rhythm slows the rushing pace of the ordinary day and helps us step back to take the longer view and the deeper look that is so often essential to the work of the retreat. We ask all groups and individuals at Richmond Hill to join with us in this rhythm. The bell will ring to announce these times to all who are present.
Richmond Hill is kept in trust for the people of metropolitan Richmond as a place of prayer and retreat by a residential community, volunteers, non-residential staff, and the financial contributions of many. It is our desire to provide an affordable and hospitable place where anyone who wishes is able to experience a daily life framed by prayer, a fellowship of love, and a quiet place "to come away…and rest awhile" (Mark 6:31).