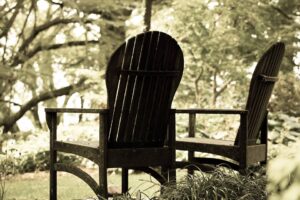 Richmond Hill offers a ministry of spiritual guidance in Christ's name to persons who come to us for that purpose.  Spiritual guidance is an ancient ministry of listening with another for the movement of the Spirit in their life and being.  It is our belief that this ministry is the work o the Holy Spirit of God and that any constructive result is God's work.
As spiritual guides, we are bound by strict ethical guidelines of confidentiality except by the written consent of the directee, as specified by law, or when confidential supervision is necessary to protect the directee.
Each of our spiritual guides is a member of a peer supervision group and also has a spiritual guide to accompany them on their journey.  Each is committed to their own prayer life and continued growth in relationship with God.
Richmond Hill does not charge fees for spiritual guidance.  However, the ministry is costly and a suggested donation of $25 or more per session is very much appreciated.  No record is kept of contributions and you are simply invited to give what you are able.
For more information, please contact DeBorah Cannady (dcannady@richmondhillva.org or 804-783-7903, ext.14)